"Checking Out" is the thirteenth episode of season 3 of R.L. Stine's The Haunting Hour: The Series. It originally aired on January 19, 2013.
Summary
No amount of complaining will get Jeremy and Chelsea out of a family vacation with their parents, but when they stumble upon a hotel where the staff doesn't take kindly to children (to the point that they brainwash the parents into despising them and sacrifice the kids into a white void located inside the painting of the hotel's founder), the two must work together to stop their parents from being brainwashed.
Plot
The plot of this episode is currently unknown.
Cast
Trivia
Allison Hossack also appeared in the season 2 episode "The Hole."
Matthew Knight also appeared in the season 1 episode "Alien Candy."
Reg Tupper also appeared in the season 1 episode "My Sister the Witch."
Video(s)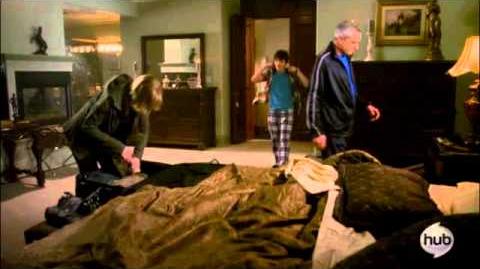 Community content is available under
CC-BY-SA
unless otherwise noted.